Sorry, I forgot the LJ cut


*intro*
.name. Katie
.age. 13
.birthday. March 29
.sex. girlie
.location. Meriden CT
.status. single
.5 words describing you. tall, loud, outgoing, crazy, hyper
.things you like. music, my friends, peanut butter, my black and pink gallaz sneakers, water, roller coasters, horror movies, and basketball
.things you hate. soda(i never really liked it), roast beef, mean people, lies
.make us laugh, tell us an embarrassing story. A lot of funny things happen to me, but they're not really embarrassing, so I'll just tell you what happened yesterday. I go to a private Catholic school, so everyone has to wear uniforms, girls with the plaid skirts and the boys with the plaid ties, the works!! Since it's a small school, we don't have our own cafateria, so we have to walk across the street to the church, and we eat lunch in this big room underneath the church. There was a firecone in the parking lot we were walking through, and I tripped over it. I fell forward, but caught myself before I fell flat on my face. My skirt isn't one of the longest things out there, so when i fell, I think everyone in back of me got a nice view of my butt. My face turned red and I started to blush, and everyone was laughing.
.how did you find this community?. I saw a banner in _meangirls
.what accepted banner do you want? check out the banners page and tell us the #.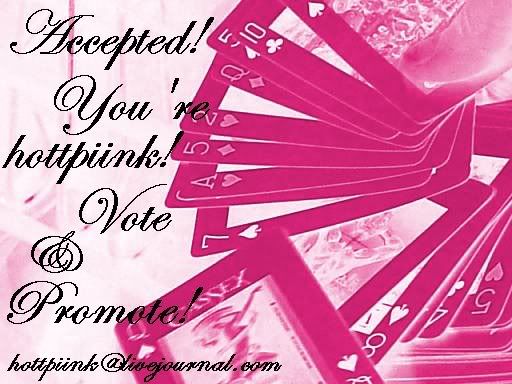 *favs*
.color. hot pink and lime green
.show. One Tree Hill, The OC, Viva La Bam
.actress. Lindsay Lohan, Keira Knightly
.actor. Orlando Bloom, Chad Michael Murray
.movies. Napoleon Dynamite, Saw, Halloween, Not Another Teen Movie
.bands. Dashboard Confessional, The Used, Brand New, Matchbook Romance
.songs. The Used - I Caught Fire & A Weekend Flight - Regretfully Yours
.outfit. its a black ruffled skirt and a red, pink, black, and white striped shirt I wore to my cousin's graduation
.stores/places to shop. Aeropostale, Weathervane, American Eagle, and Hot Topic(for my band tee's)
.personality trait of yourself. loud

*random*
.write a short poem about anything you want(if you want). This is a poem I heard when I was in Kindergarten, and I never forgot it, it makes me laugh, and there's a little dance to it:
I took a trip to Boston to get a loaf of bread
But on the way to Boston my horse fell.. dead!
.what are your bad habits?. I bite my nails
.give a detailed description of what you look for in a bf or gf. Someone who's kind, and not all cocky and full of himself. He has to be taller than me, but doesn't have to be the hottest thing ever. Someone I can be myself around, and I don't have to worry about him thinking I'm weird. I like blondes or brunettes, and I love nice eyes!
.if you could spend the day with one famous person (dead or alive), who would it be?. anyone of the Gotti boys. I think their so hot and cool.

*promote us in a community thats active WE CHECK*
.link to where you promoted. www.livejournal.com/community/_____electricka/

*pics*
.have at least 3 pictures of yourself (you can have as many as you want). and have one picture 200x200 in case your accepted.

I look really little there...

Me not paying attention...

my hair's curly there...

before I got my braces...
Hope you like<3