*intro*
.name.
Laura Anne

.age.
14

.birthday.
November 9th, 1990

.sex.
Female

.location.
Wilmington, Delaware

.status.
Single

.5 words describing you.
Outgoing, easily amused, awake, moody, and friendly

.things you like.
Guys, shopping, going to the movies, hanging out with my friends, photography, cheerleading, basketball, soccer, volleyball, running, taking long walks, going to 7-Eleven [i dont know how someone wouldnt find this fun!], listening to music, dancing, singing, writing, drawing, flirting, and so much more

.things you hate.
chipped nails--they snag on my clothes, my music teacher, my computer teacher, kyle carty, cancer, Arthur [the show], classical music, labels/stereotypes, allergies, the bump in my hair when its in a ponytail too long, scales, mirrors, bad luck, sweat, rapists, abortionists [is that what you call them?], lies, false hope, people that lead you on, rumors, people that think im a whore and talk behind my back, backstabbers, and probably so much more

.make us laugh, tell us an embarrassing story.
um...which? ill do both i guess..
laughing...thing true story too!: well! i was over my friends house one day and i saw this really hott guy across the street [btw, this guys short and i thought he was around my age] so i call through her window 'ow, ow, owwww! TAKE IT OFF, BABY!' and being older, and not being aware at how old i was, i suppose, he started unbuttoning his pants! so i plop back onto my friends bed and squeal. i dont know, it was funny at the time...
embarrassing story ... : so, it was the first time i was having my period last year and it hurt like hell, but i didnt want to go home [from school]. so i wanted to go to the nurse, but my teacher wasnt calling on me [me and my friends call him Meekers as a joke]. so i finally scream out in the middle of class 'MEEKERS! do you MIND! can i PLEASE go to the nurse!' and i said that through clenched teeth. well, as i was walking out, i tripped and landed flat on my face and it was all just overwhelming and i burst out into tears.. and i ran into the bathroom and cried. its quite amusing, now though.

.how did you find this community?.
just browsing through LJ

.what accepted banner do you want? check out the banners page and tell us the #.
if you ask me, they all look pretty darn sexy, but #2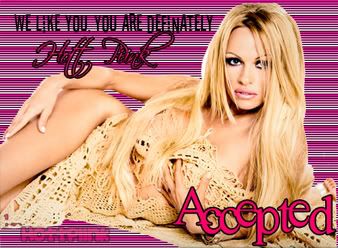 *favs*

.color.
pink [obviously] and red ... but not together

.show.
One Tree Hill, Just Shoot Me, Everwood, The Drew Carey Show, Room Raiders, Laguna Beach, Pimp My Ride, Cheers, 7th Heaven, Futurama, South Park and Family Guy

.actress.
Renée Zellweger [beyond all], Kiera Knightley

.actor.
Anthony Hopkins, Hugh Grant, Brad Pitt, Orlando Bloom, Johnny Depp, and so on with all the sexy men

.movies.
Mean Girls, Planet of the Apes series, Princess Bride, SAW, Silence of the Lambs, The Notebook, Bridget Jones's Diary, Legally Blonde I, Home Alone, The Ring/Ringu, Psycho, The Exorcist,and other horror movies

.bands.
Taking Back Sunday, Dashboard Confessional, Fiery Furnaces, Matchbook Romance, My Chemical Romance, Led Zeppelin, No Doubt, Evanescence, Dogs Die In Hot Cars, Eve6, Sum41, Blink 182, Sugarcult, Beck, New Found Glory, Jimmy Eat World, Butch Walker, Tenacious D, Wakefield, and others

.songs.
Drop It Like It's Hot :: Snoop Dogg ; Everybody's Fool :: Evanescence ; You're So Last Summer :: Taking Back Sunday ; Screaming Infidelities :: Dashboard Confessional ; All by Myself :: Jamie O'neil ; Hit or Miss :: New Found Glory ; Mixtape :: Butch Walker ; Pain :: Jimmy Eat World ; I'm Not Okay [I Promise] :: My Chemical Romance ; Pretty Girl :: Sugarcult ; Liars & Lovers :: Matchbook Romance

.outfit.
my baby blue, old, baggy pants, my vans with the oh-so-sexy hot pink laces, my Ocean City, NJ black hoodie, hair in a messy bun, and a random t-shirt

.stores/places to shop.
A&E, Rave, H&M, Hollister, Boscovs, department stores, FYE, Hot Topic, and so many others

.personality trait of yourself.
Outgoing, hyper, moody, and friendly


*random*

.write a short poem about anything you want(if you want).
Covering Up
She's got scars on her wrists
That she can't seem to hide.
She may try to resist,
But they're easy to find.
And she'll hold high her fists
With her wrist bands on mind.

Watching the blood trickle down
Into another red stain.
Blood and water spins around
As it all pours down the drain.
She knows she wants to be found,
But the blood comes as if rain.

She's got a big complaint
That is never fading.
Kept under restraint,
But razors are waiting.
Her face is fake as paint
And truly degrading.

If a comet hit a star
Would it break like someone's skin?
And be warned you'll see the scar.
Understand it's not a sin...

its about cutting... i dont know, i love this one that i wrote a little while back... i hope its appropriate...

.what are your bad habits?.
twirling my hair, crossing my legs during church [er...my dad says its bad], chewing gum loudly, taking really big gulps of whatever im drinking and then gagging on it, being gullable, being a flirt, getting let down too easily, and there are too many to name...

.give a detailed description of what you look for in a bf or gf.
physical: tall, blonde shaggy hair, deep, beautiful, and penetrating eyes that let you into their soul, and goodlooking
mental: kind, loving, sweet, smart, but not too smart because thats just annoying, sensitive, funny, outgoing, and easy to talk to

.if you could spend the day with one famous person (dead or alive), who would it be?.
Marilyn Monroe or maybe Kurt Cobain---depends on what kind of day it is...

*promote us in a community thats active WE CHECK*

.link to where you promoted.
http://www.livejournal.com/community/1cons/1839971.html

*pics*

.have at least 3 pictures of yourself (you can have as many as you want). and have one picture 200x200 in
case your accepted.


[155x200]


to express my mad love for you all



♥Laura